by Nichole Camarillo
As slow as the time seemed to creep before the Round One Release, that
definitely
wasn't the case this time. This week flew by WAY too fast. There was so much going on. There were so many things to do and new faces to greet, I almost feel dizzy. I hope I make the deadline for you guys. Well... by that I mean, I
will
make the deadline, I just hope I live past it. Ha. As you all know, I am very drained. Thank you to everyone pushing me forward! All of the encouraging messages, comments, emails, everything... it makes
such
a difference. And it without a doubt makes all of this worth it. You guys are great. :)
Release two of four in July's 'One A Week' project is
rounding that corner at full steam now.
The full painting, details, and product line will launch tomorrow. YAY! But before I drop that on you, why don't I ease you in, yeah? Alright, let's have a look...



Release Two of Four

- By Nichole Camarillo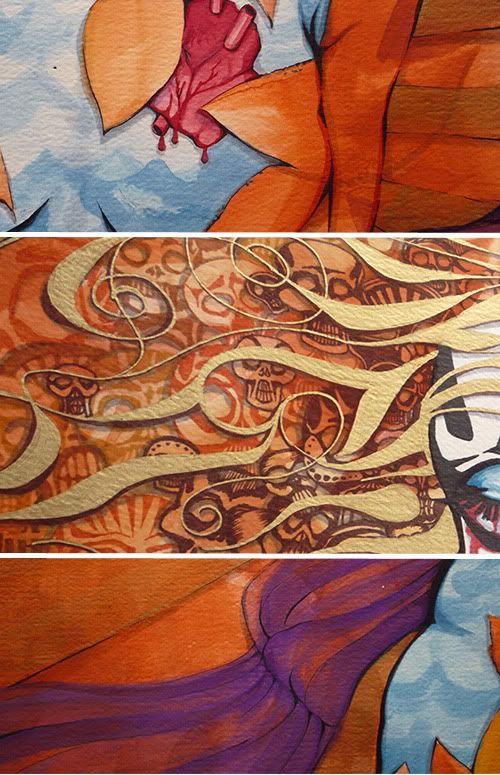 The gold takes it to a whole other level. Seriously. She's fabulous. :) I think the skulls are my favorite part though (of course). I can't wait to share her with you. Alright now, let's bring on the fun...
Give-Away!
Round two has two winners, you guys. That means more chances to win, so I hope you're following along. Get your votes in. As of right now, it looks as though the prize will be an artist print of 'What's A Girl To Do'. Not the prize you want? Maybe the new sneak peek has you wanting a different painting? Well then you better get to voting because Polls close at midnight. That's right. Today is your last day to vote before the Round Two Give-Away Polls are closed for good. You guys are also running short on time to become a follower, if you haven't done so yet. I don't want you to miss out on any of the fun, so as long as you become a follower of this blog by no later than 1pm tomorrow, then you will be eligible for this round's give-away.

I will be choosing the winners tomorrow.
And again, it WILL be random. So, good luck to everyone!

P. S.
Here is the video I had said I would release for you guys to tear apart. Ha.
Keep in mind how hard I've been working for you, and BE KIND! ;)