By Nichole Camarillo
Here we are, friends. The fourth and final sneak peek in July's 'One A Week' project. In the Round Four video I told you the painting was going to be 'out of control insane'. Well, this sneak peek will only confirm that. In this new painting, you will get a glimpse of both my dreams and nightmares at their finest. Whether that's a good or a bad thing, we'll just have to wait and see. Now, I know with each round's new release, I've given you a small taste before letting you sink your teeth in, but
this
Betty might actually bite back. ;)
The full painting, details, and product line will launch tomorrow. But before I allow her to devour you completely, why don't you give her a taste...



Release Four of Four

- By Nichole Camarillo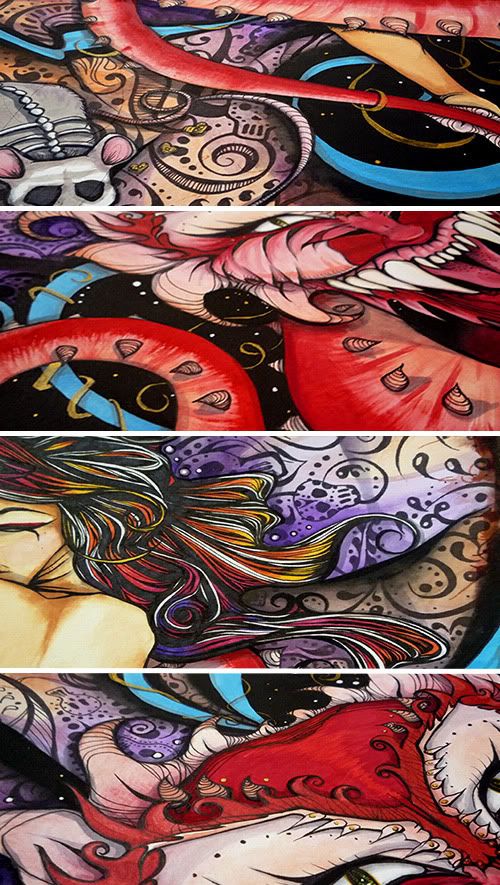 OOOOoooohhh... Lol. I am
so
excited to share this one with you. :D
Whether you'll be disturbed by it or not, is irrelevant. You're going to love it. This is the first time I have ever painted something of this nature. Although I was a bit uncomfortable painting this one, I was definitely
more
uncomfortable
not
painting it. I had to share this. I had to paint this. I wish I could have somehow shared the actual dream with you.
T
hat
was
Queen
of 'out of control'. Lol. I hope everyone that wants this one gets the biggest print possible. You won't be able to take your eyes off it. &With
50% OFF Prints
right now, its a win/win. ;D
Alright people, check your watches. What time is it? Ahhhh
yes
...
Give-Away!
Round Four will have one winner. The final prize for that winner will be a FOUR FOOT print of one of my paintings. Make you sure vote on which painting you would like to win. The poll is located in the right-hand sidebar of this page. The voting closes at midnight, this Saturday, August 1st. I know we usually do all of that in a tighter timeline, but seeing as how this is the LAST round and a GIANT prize, I wanted to give you a bit more time. Of course by '
you
' I mean any of the crazy people that haven't joined in yet. ;)
All are welcome to start following this blog by clicking the 'FOLLOW' button to the left of this page. Depending on how you are viewing this page, it may say 'Join This Site'. Only followers of this blog are eligible to win. Join in by no later than 1pm this Saturday, August 1st, to play in the Final Round's Give-Away.
Recap; Polls close @ midnight, August 1st. Winner picked August 1st @1pm. Hot new painting/product line drops tomorrow. Good luck to everyone!