By Nichole Camarillo
It is 4:30 in the morning right now, people. I really hope
someone
out there appreciates my dedication and hard work. Lol. Oh I'm so tired. Alright, alright, enough whining... Well, Release Two of four in my July 'One A Week' project is now gracing us with her presence. [Impatient people;
VIEW NOW
] As I promised, the new painting is now available in print sizes up to 36" X 48", t-shirts, sweaters, mousepads, stickers, hats, bags, keychains, mugs and more. Skateboard and shoes for this product line will be available later this week. I'll be sure to keep you posted on those. You can view all of the products in this line at my shop. [
Click Here For Happy Shopping
.]
Okay, here we go...
Allow me to introduce the newest addition... "Pale September" By Nichole Camarillo. If you would like to view this image larger [please do], then you may visit her gallery page by
clicking here
. You can also view the
gallery homepage
to keep up with the next release dates in this project.
For those of you that can spare a moment, please leave me your thoughts about this new painting. It would mean so much to me. I would love to hear from you.

Update...
As you may have noticed, the Round 2 polls are now down. The polls closed at midnight this morning, and I have counted and verified each and every single vote by hand.
Yeah, okay, maybe not that last part. But either way, the votes are in! What did you guys choose? What painting is your number one? Here are the results...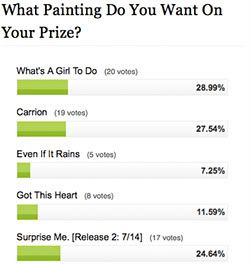 The obvious winner for the
choice of prize
is the artist print. KILLED that vote. Wow. Winner for
choice of painting
was a close one though. "
What's A Girl To Do
" won by only one single vote. I must admit, watching the votes was pretty intense for me. If it hadn't had been such a close race, I probably would have thought nothing of it, but I was glued. And every time I encouraged more votes, they would sway a bit. Back and forth, back and forth. It was too much for me to stand. Ha. I'm glad it's over and TWO lucky winners will get to enjoy the results. :)
NOTE:
Cut off time to become a follower and be eligible for this give-away, is 1:00pm. At that time, you are definitely still encouraged to follow, but will be eligible for give-aways
after
this one.
Much
more to come, so don't you fret.
Alright ladies & gents... NAP TIME! :D YAAAAAY!!!