by Nichole Camarillo
Ohhh myyy.... Do you guys even
realize
where we're at right now? This is the Sneak Peek of Round
THREE's
release. Round. Three. Seriously, this is really flying by now. Sigh. Alright, well, let's not let my separation anxiety come between you and the sneak peek you're here for.
Release three of four in July's 'One A Week' project has less than a day left before she's unleashed onto the world. The full painting, details, and product line will launch tomorrow. But before we go swimming in that ocean, why don't we get a little wet...



Release Three of Four

- By Nichole Camarillo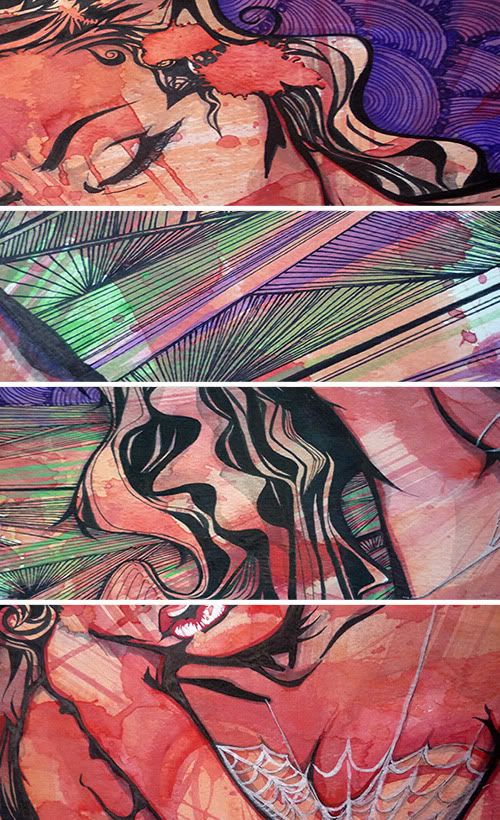 She's hot. Like,
crazy
hot. I think you'll love her as much as I do. :)
When you guys see this painting in its entirety, you might not be able to appreciate how much is actually going on. There are a lot of textures and a
lot
of small details that may slide past what your eyes can grasp. So with this sneak peek I wanted to try and focus on those details. And just in case you were wondering, all of those lines you see were not done with a stencil or comb or crazy brush. Each and every single line, dot, swirl, circle,
whatever
, were done freehand and one at a time. ALL of them. Lol. I really am amazed that my fingers didn't cramp up and break off.
Alright people, you know how this goes down...
Give-Away!
Round three may have one winner. It may have three. That depends solely upon your voting vivacity. Heh. According to the current poll results, it looks as though there will be ONE winner. If you're not happy with this being the outcome, get on over to right side of this page and vote. Today is the last day for any changes to the polls. They will close at midnight tonight.

And of course, all are welcome to start following this blog by clicking the 'FOLLOW' button to the left of this page. Depending on how you are viewing this page, it may say 'Join This Site'. Only followers of this blog are eligible to win. Join in by no later than 1pm tomorrow and you too can play in this round's give-away. :)

Recap; Polls close @ midnight. Winner (or winners) picked tomorrow @1pm. Hot painting coming your way. ;) Good luck to everyone!