By Nichole Camarillo
You enjoy reading my blog. You love checking out my artwork. You're a regular at my shop and love all of the cool products you find. Or maybe you just like me. Whatever your reasons, I would like to thank you so much for being here. And thank you so much for wanting to share what you've found with others. There are many different ways you can show your support.
Support Banners
Have a website, myspace, blog, etc...? You can place any one of my banners anywhere you'd like on your sites. They're small, fun and unique additions you can move around and change out with ease.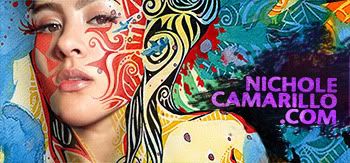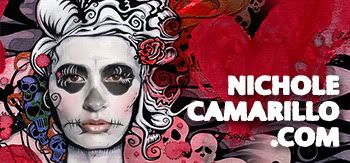 Flash Panel
Have a shopping blog? Like to showcase artistic products? Add one of my online shop flash panels to your post. Or if you have the room, go ahead and add it anywhere on your site. Here are a few different ones...
All products, sorted by popularity.



Poster prints, sorted by popularity.



Skateboards, sorted by popularity.


Donate
It takes a lot of continuous hard work to keep all of this up. And sometimes it can get pretty rough. I don't always have what I need to get by, so I do my best to get by without it. But if you can appreciate my work and my art, maybe you'd like to extend your hand. Instead of just getting by, you can help me get ahead. No amount is too small. Every bit helps.
Be Creative!
Want to show your support and encouragement in your own way? Please do!
Any and all ways you get involved help me to push forward. They help me to continue writing this blog, continue painting, continue creating, continue sharing, and simply continue being me. Your support is greatly appreciated. No matter how small you may think it is, it means the world to me. Thank you.